What is a deed poll?
A deed poll is a kind of legal document used to prove a change of name.
In the U.K., changing your name is a legal matter.  That means that there's no "official" place where you go to register your new name.  In law, your name is legally established by usage.  In theory you can just start using a new name, and gradually become known by it.
But to update your passport, driving licence, and most other official documents, you'll need a formal document which proves that you've changed your name, and when you changed it.
A deed poll (or change of name deed) is a kind of formal legal document whereby you promise to give up your old name and use a new name for all purposes.  It's accepted by all government bodies in the U.K., including HM Passport Office and the DVLA.  It's also accepted by all banks and other organisations in the U.K.
You'll have to sign and date your deed poll, and it also needs to be witnessed.  When you make an application with us, we'll send you full instructions on how to complete the document, and what to do with it afterwards.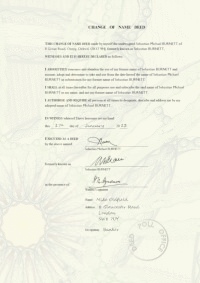 Do I need a deed poll?
If you've recently got married or divorced, or entered a civil partnership, you may be able to use a document that you already have, instead of a deed poll.
Find out more